So this past year has seen a lot of development on my Phantom costume in preparation for the Halloween season. I made my own stage replica lace wig which took several months to complete. I made some prosthetics for the makeup (which turned out to be a sort of success/failure), updated several pieces, and commissioned that replica cape. I was feeling pretty snazzy, so I snapped several photos. Just thought I'd post so that those who might be interested could have a look!

Preview:





Costume photos, featuring the new replica cape: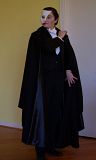 Now for some makeup shots, and also some closeups of the replica wig that I hand ventilated this past summer. It took me three months of work in my spare time to create the whole wig, three to four hairs at a time. The front hairline was done one hair at a time. PHEW!

The wig:



Full makeup and wig:






A good majority of my Halloween was spent at the Kennedy Center in Washington, D.C. For some fun anecdotes of my experience, please check out my blog!